A neighborhood made of modern luxuries.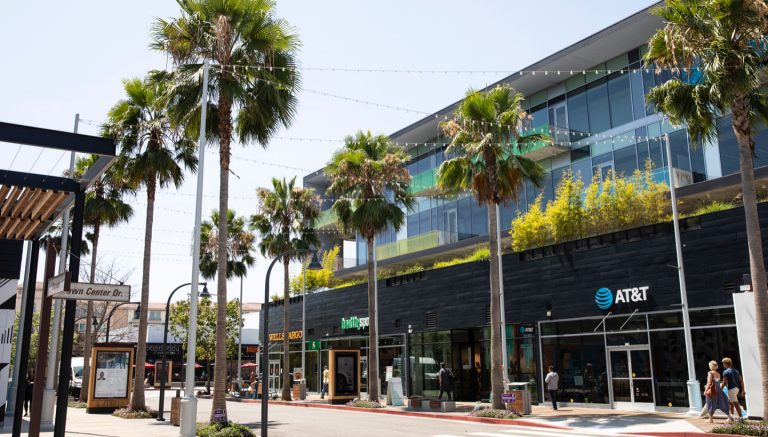 Runway is a community within a community with everything you need.
Situated in the downtown core of Playa Vista, Runway is its own community with more than 220,000 square feet of retailers and restaurants. Walk over to get groceries at Whole Foods, or get fresh produce at Playa Vista Farmers Market, grab a bite to eat at Hopdoddy, or a quick cup of coffee at Starbucks.
Playa Vista's place to be.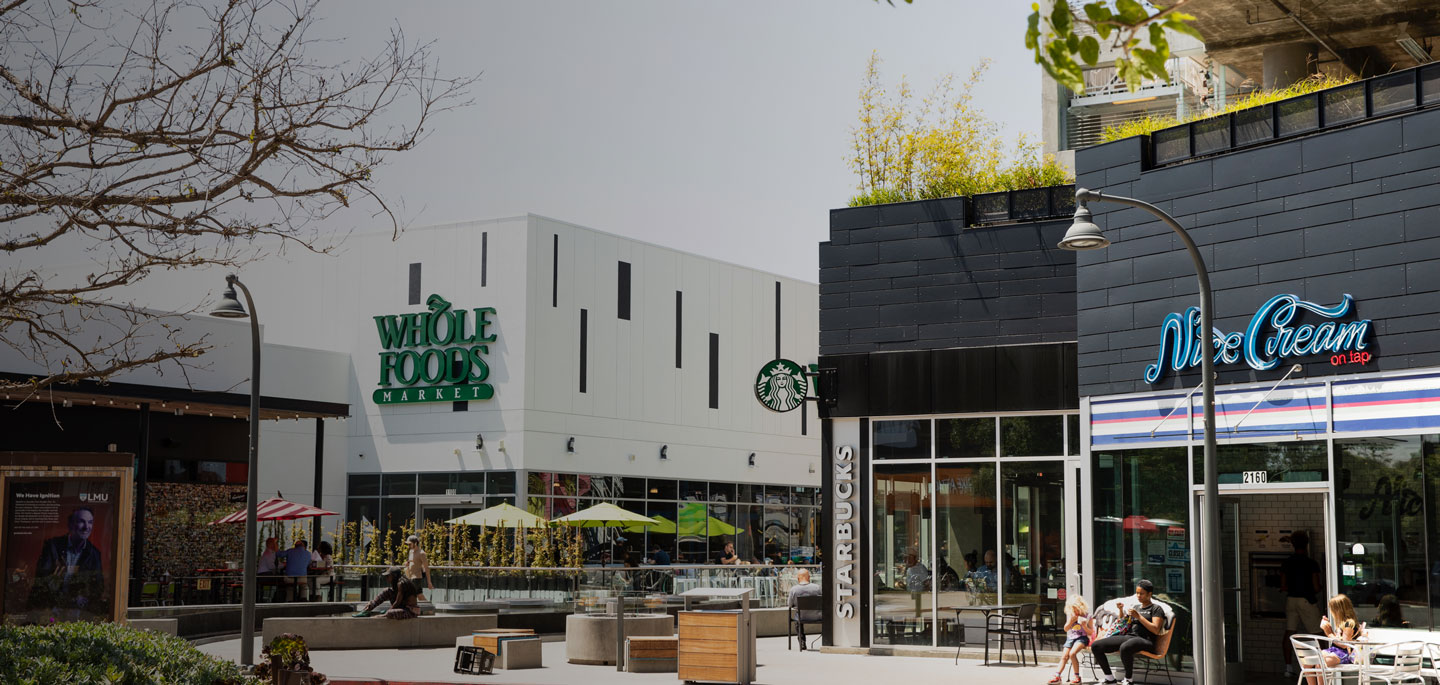 .01 miles
Dan Modern Chinese
Chinese Restaurant
.01 miles
LOQUI
Mexican Restaurant
.01 miles
Jeni's Ice Cream
Ice Cream Shop
.2 miles
Whole Foods
Grocery Store
Eco-minded chain with natural & organic grocery items, housewares & other products (most sell wine).
.1 miles
Starbucks
Coffee shop
Seattle-based coffeehouse chain known for its signature roasts, light bites and WiFi availability.
.1 miles
SOL
Mexican restaurant
Local chain with Baja-style eats such as shrimp tacos & chiles rellenos & a lively happy hour.
.1 miles
Bull and Butterfly
Steakhouse
.1 miles
Urban Plates
New American restaurant
Eat healthy, indulge or both. Real food made from scratch every day.
.1 miles
Hopdoddy Burger Bar
Restaurant
Hip, eco-minded burger joint with all-natural meats, housemade buns, shakes & unique beers.
.01 miles
Period Correct
Clothing Store
.01 miles
Urbanic Paper Boutique
Stationery Store
.01 miles
FREE MARKET
Shopping Mall
.01 miles
County Line Florals
Shopping
.01 miles
Alchemy Works
Home Goods Store
.2 miles
Wells Fargo
Bank
.2 miles
CVS Pharmacy
Drug store
Drugstore chain selling a variety of beauty & health products, plus some grocery & household items.
.1 miles
Cinemark
Movie Theatre
Cinemark is a leader in the motion picture exhibition industry.
Chase serves more than 65 million consumers and 4 million small businesses with a broad range of financial services, including personal banking, small business lending, mortgages, credit cards, payments, auto financing and investment advice.
.2 miles
AT&T
Cell phone store
Retailer providing wireless plans & a range of phones, devices & accessories.
.1 miles
Healthy Spot
Pet store
Healthy Spot is a pet retail destination that also offers best-in-class grooming and community experiences. Using a mind, body, and bowl approach, Healthy Spot is committed to inspiring healthy pet lifestyles and building local pet communities.
.1 miles
Bike Attack
Bicycle store
Bike Attack is an Independent Bicycle Retailer and popular bike shop with multiple locations in Santa Monica and Playa Vista, California.
.01 miles
Sender One
Rock Climbing Gym
Enjoy over 7,000 SF of bouldering, training, and fitness. This colorful environment welcomes all levels of climbers from brand new, first-timers to experienced, seasoned climbers. We're here to support you through your climbing journey, whether that's to build strength, challenge yourself, make new friendships, or just have fun!
.01 miles
Maverick Community
Fitness Center
.01 miles
Heyday Skincare
Facial Spa
.1 miles
Varnish Lab
Nail salon
Wave goodbye to the boring nail salon and meet Varnish Lab, a nail spa and beauty experience that's as unique as you are. We offer an array of nail and waxing services in an environment that's part laid-back lounge and part girls' night out.
.1 miles
Runway Optometry
Optometrist
Shop all the brands you love.
.2 miles
Quest Diagnostics
Medical laboratory
Lab results often inspire healthier living, and with Quest Diagnostics in your neighborhood we make it easy to get in and out quickly so you can get the most out of your health.
.2 miles
Cedars-Sinai
Urgent care center
Urgent care center in your neighborhood for you and your family.
.2 miles
Brella
Day care center
Brella is changing how child care works. We've taken the best of high-quality center-based child care and made it flexible. Now you can design your own schedule and pay by the hour. It's child care that's responsive — not restrictive.
.1 miles
Beauty Beach Lounge
Hair salon
A Full Service Hair Salon for men and women.
.1 miles
SKF Academy of Dance
Dance school
Proudly serving the community since 2007, So Fly Kids presents, SFK Academy of Dance – Los Angeles' premier performing arts studio, ages 16 months and up.
.1 miles
The Studio (MDR)
Pilates studio
The Studio (MDR)™ brings the intensity of fitness guru Sebastien Lagree's Pilates-inspired workout to Marina Del Rey, Culver City and Playa Vista.
.2 miles
OrangeTheory Fitness
Gym
Orangetheory is a science-backed, technology-tracked, coach-inspired group workout designed to produce results from the inside out.
.9 miles
Campus Central Park
Park
With an iconic Bandshell for outdoor concerts and movies, a playground, sand volleyball court, basketball court, ponds, berm gardens and tons of cool tables and chairs for seating, this park keeps The Campus and community entertained and active.
.8 miles
Crescent Park
Park
Whether you're up for a game of touch football, a picnic or reading a book, this tree-lined gathering space offers a lush garden setting and fountains, as well as a path for walking, jogging and rollerblading enthusiasts.
.6 miles
Ballona Discovery Park
Park
The 1.7-acre park located just below the bluffs is an open-air science and cultural center designed to engage and educate visitors about the Ballona Watershed.
.4 miles
Concert Park
Park
A neighborhood favorite that's the perfect place for a little bit of everything – outdoor concerts and movies in the park, enjoying a coffee or bite to eat under the shade trees, food trucks, yoga and zumba classes, play dates, a leisurely stroll and much more.
.3 miles
Bluff Creek Dog Park
Dog Park
If you love Playa Vista's Sports Park, you'll adore Bluff Creek Fields. This active park includes a soccer field, tennis court, grass play area, playgrounds, botanical gardens, tree groves, walking paths, event space and dog parks.
.3 miles
Oberrieder Dog Park
Dog Park
Our dog park is perfect for your pup and a great place to meet neighbors and new friends. Plus, you can always play a fun game of paddle tennis or basketball at this park too.
.8 miles
The Sports Park
Park
This state-of-the-art seven-acre sports park features a baseball field, soccer field, two basketball half-courts, two tennis courts and tot lot. From soccer games and boot camps to birthday parties and play dates, this park is loved.
The whole family is in for some fun at The Lawn. Unwind in the shade, get together for a party, savor the calm of the pond and play with the kids at the tot lot.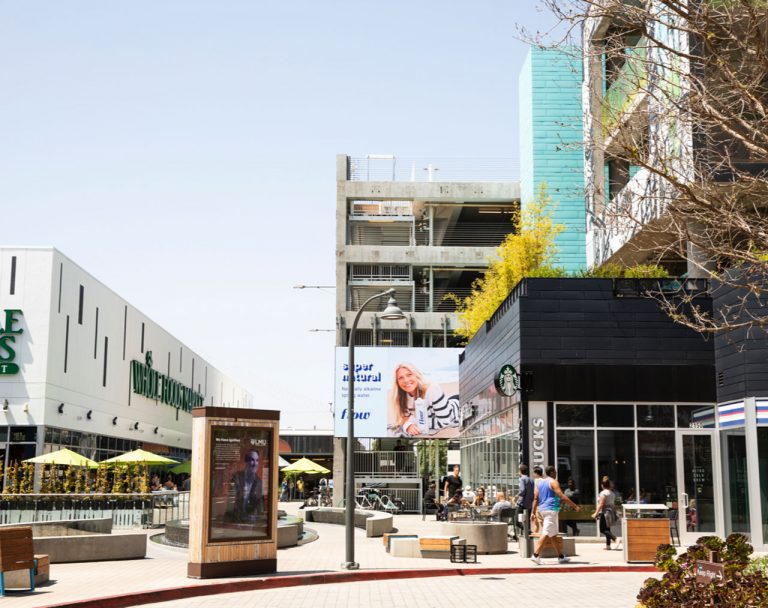 Learn more about all the dining, shopping, and services Runway has to offer.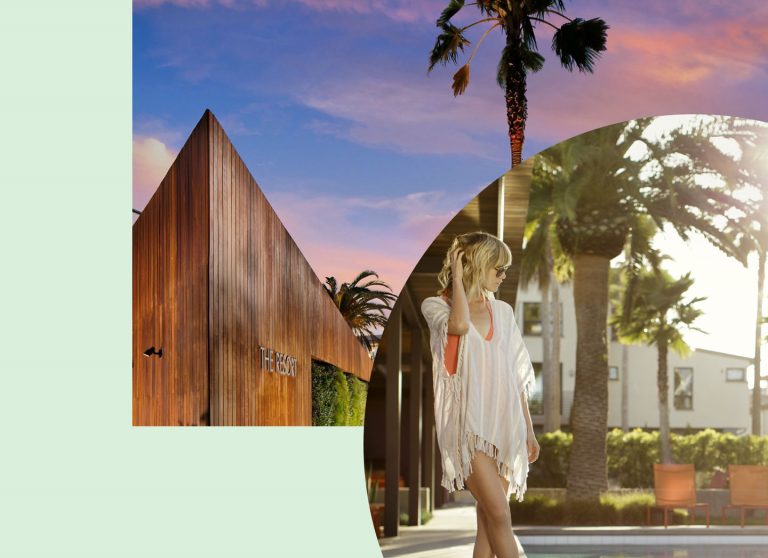 Perks of Playa Vista.
Living in Playa Vista you'll have access to private luxury amenities outside of Runway – including green spaces, a community clubhouse, health and fitness centers, and more.
@liveatrunway